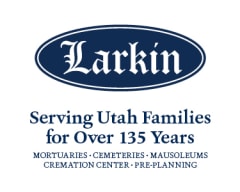 Locations
Larkin Mortuary

260 E South Temple

Salt Lake City, UT 84111

Larkin Sunset Lawn

2350 E 1300 S

Salt Lake City, UT 84108-1941

Larkin Sunset Gardens

1950 E 10600 S

Sandy, UT 84092-4708

Larkin Mortuary - Riverton

3688 West 12600 South

Riverton, UT 84065
About Us
Larkin is a full-service funeral provider. We make it easy for loved ones to get the details right so they can honor and celebrate the life that has passed on. While we recognize that there are a lot of options out there, the right service is really the only option. At a time when emotions are tender, receiving guidance by someone who has been around and understands your needs can help you find the perfect service. Six generations of serving Utah's communities has given Larkin a few insights.
---
---
Don't see your business?
Contact us here to get your business listed above!