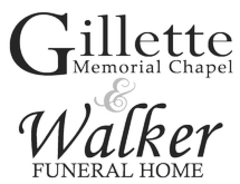 Locations
Gillette Memorial Chapel

210 W 5th St

Gillette, WY 82716-4254

Walker Funeral Home

410 Medical Arts Court

Gillette, WY 82716
About Us
Gillette Memorial Chapel (formerly Stevenson-Wilson Funeral Home) was established in 1967, beginning an ever-growing commitment to serving area families. For all of these years, this funeral home has been a comfort and service to families in need, "serving when the need is greatest." Walker Funeral Home was established in 2007 as a continuation of the commitment to area families. Together, the staff at both Gillette Memorial Chapel and Walker Funeral Home have a long tradition of helping families plan the many details of the funeral service, a service that reflects the life of the individual. We offer a full range of funeral services that are affordable and meaningful. And we are here to listen to the needs and concerns of each family as we seek to create a meaningful service, appropriate to each family served.
---
Don't see your business?
Contact us here to get your business listed above!