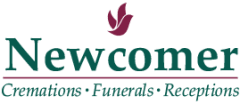 Newcomer Cremations, Funeral & Receptions
website
Locations
Newcomer Cremations, Funeral & Receptions

710 E 2nd St

Casper, WY 82601-2621
About Us
We opened in 1996 to serve the families of Casper and the surrounding communities. Our funeral home was designed with you in mind. It includes a beautiful, spacious chapel for funeral and memorial ceremonies, a variety of tastefully appointed rooms for family and visitors to gather, and a large, well-lit parking area. A funeral or memorial ceremony is a special time to honor your loved one. Many families find that the gathering time before and after services is just as important. Being able to relax with family and friends, catching up and receiving comfort is crucial after the busy days of planning services and making arrangements. We can help you coordinate a reception at some of Casper's most popular meeting places. Our staff will be pleased to help you select the providers that best meet your needs.
---
Don't see your business?
Contact us here to get your business listed above!