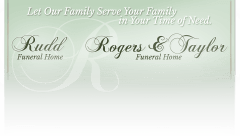 Rudd Funeral Home/Rogers & Taylor Funeral Home
website
Locations
Rudd Funeral Home

1234 S Main St

Garland, UT 84312

Rogers & Taylor Funeral Home

111 N 100 E

Tremonton, UT 84337-1401
About Us
We at Rudd Funeral Home and Rogers and Taylor Funeral Home would like to invite you to experience the love and care that we provide for your family. We are a family-owned business that lets you work with the owners through every step of the funeral process. We are committed to giving you the attention and service that you deserve. Let our family serve your family in your time of need.
---
Don't see your business?
Contact us here to get your business listed above!