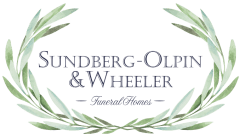 Locations
Sundberg Olpin Mortuary

495 S State St

Orem, UT 84058-6301
About Us
Established in 1888, Sundberg-Olpin & Wheeler Mortuary has served Utah County through decades of growth and change. Families from Lehi to Santaquin, as well as the counties surrounding have chosen Sundberg-Olpin & Wheeler to help them through one of life's most difficult transitions. Edwin Dee & Inez Olpin founded Pleasant Grove's Olpin Family Mortuary in the late 1800's. Edwin was one of three men in the Utah Valley, including Walter Wheeler of Springville, Utah, to be educated in the Art of Mortuary Science. Edwin & Inez's son, Lewis, and his wife, Margaret, joined the family business years later. In 1943, just after Elwood Sundberg married Lewis & Margaret's daughter, LuJean, they too decided to join the family business and Elwood became a Licensed Funeral Director. In 1946, on a dirt road in Orem, also known as State Street, Olpin-Sundberg Mortuary was completed and began serving the community. It was the first full-service funeral home in Orem. In 1989, Elwood & LuJean's son, Kelly, became a fourth generation Licensed Funeral Director with his wife, Teri, and joined the Sundberg-Olpin family business.
---
Don't see your business?
Contact us here to get your business listed above!