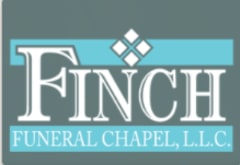 Locations
Finch Funeral Chapel Lavernia

13767 Us 87

Lavernia, TX 78121-0838

Finch Funeral Chapel Stockdale

400 S 4th St

Stockdale, TX 78160-0069

Finch Funeral Chapel Runge

204 North Mugge

Runge, TX 78151

Finch Funeral Chapel Yorktown

212 E Main St

Yorktown, TX 78164-0674

Finch Funeral Chapel Nixon

308 E 3rd Street

Nixon, TX 78140-0427
About Us
Today, each Finch Chapel location is unique. While the La Vernia location is the most modern, the Nixon, Stockdale, Yorktown and Runge locations are well maintained. Today, the five funeral homes operate under the same principles as Barney and Don Finch established in 1961. "Treat families like you would want them to treat you." This is our guiding principle yesterday, today, and for the future. Troy shared his dad's long term vision for providing funeral service. In 1999, he acquired Myers Funeral Home in Stockdale. The name of the funeral home was changed to Finch Funeral Chapel of Stockdale. In 2005, Troy acquired Finch Funeral Chapel of Nixon and Finch Funeral Chapel of LaVernia. On December 1, 2007, Troy aquired Lamprecht-Janssen funeral home in Yorktown and Janssen funeral home in Runge. At this time, all of the funeral homes names were changed to Finch Funeral Chapel, L.L.C. The joint operation of the five funeral homes is the largest funeral concern in Gonzales, Wilson, Dewitt and Karnes counties.
---
Don't see your business?
Contact us here to get your business listed above!