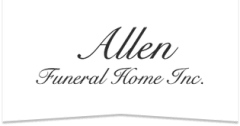 Locations
Allen Funeral Home

508 Masters Ave

Wylie, TX 75098-3603
About Us
Allen Funeral Home was opened in January 1970 by W. C. and Reta Allen after buying Moore Funeral Home. Allen Funeral Home is now owned and operated by W. C. and Reta's son, Danny and his wife Liz. Allen Funeral home began in 1970 in downtown Wyle and are now located directly across from the Wylie Cemetery. For 48 years, Allen Funeral Home has proudly served the community around Wylie.
---
Don't see your business?
Contact us here to get your business listed above!