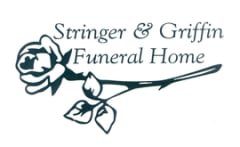 Stringer & Griffin Funeral Home
website
Locations
Stringer & Griffin Burkeville Chapel

Fm 1414

Burkeville, TX 75932

Stringer & Griffin Funeral Home Jasper

2577 North Wheeler Highway 96 North

Jasper, TX 75951-0032

Stringer & Griffin Funeral Home Woodville

113 W Holly St

Woodville, TX 75979-5203
About Us
Stringer and Griffin Funeral Home was founded in 1928 as Stringer Funeral Home of Jasper by W.O. Stringer. Affectionately known as "Crip" because of his limp, W.O. also served as the Jasper County Judge for many years. He later sold his business to his nephew, J.O. Stringer, who had previously owned and operated the funeral home in Newton. In 1979, Ky Griffin was named manager of the funeral homes in both Jasper and Burkeville. Charged with continuing the dignity of the service traditions already established, Ky succeeded in his new role and in 1982, Ky became an owner and was named Vice President and General Manager of Stringer and Griffin Funeral Homes later becoming CEO/President. In 1991, Ky, a native of Woodville, opened the Woodville Branch of Stringer & Griffin Funeral Home to better serve the people of Tyler County. Today as a family, Stringer & Griffin Funeral Homes continue their tradition of caring for the people of Southeast Texas. We Are People You Can Talk To...Professionals You Can Depend On To Honor The Spirit Of A Life Well Lived........
---
Don't see your business?
Contact us here to get your business listed above!