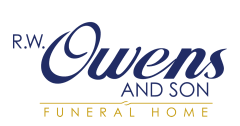 R W Owens & Son Funeral Home
website
Locations
R W Owens & Son Funeral Home

200 Santa Fe St

Wolfe City, TX 75496-0095
About Us
R.W. Owens and Son began as the dream of a young man when Richard W. Owens earned his embalmers license in 1932. That dream became a reality when he founded R.W. Owens and Son Funeral Home in 1945. Richard Owens wasn't from Wolfe City, but he made Wolfe City his home and settled his family here as he launched his career. Over the years, more generations of the Owens family followed him into the business, including his son Bobby Owens and his grandson Dick Owens. The Owens family not only grew the funeral home into a respected local business, but they also gave back to the community—serving in church, civic and community organizations. Today a new generation has assumed the mantle of compassionate, professional, full-service funeral care to the Wolfe City and surrounding area. While the names may change and the story may evolve, one thing remains constant: our dedication to serving the families who have trusted us for over 70 years.
---
Don't see your business?
Contact us here to get your business listed above!