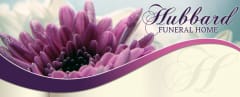 Locations
Hubbard Funeral Home Inc

216 E Jackson St

Weimar, TX 78962-2118
About Us
The caring and experienced professionals at Hubbard Funeral Home are here to support you through this difficult time. Our firm has been serving families in the Weimar area for over 115 years. And now David and Carol McCoskey are here to continue that tradition. We offer a range of personalized services to suit your family's wishes and requirements. You can count on us to help you plan a personal, lasting tribute to your loved one, and we'll carefully guide you through the many decisions that must be made during this challenging time. You are welcome to call us at any time for immediate assistance. We also provide a wealth of information here on our web site so you can learn more about us from the privacy of your own home. A death can be emotionally devastating. We are here to help, with a welcoming and comfortable environment to receive family and friends. Please let us know what we can do to make this difficult time a little easier.
---
Don't see your business?
Contact us here to get your business listed above!