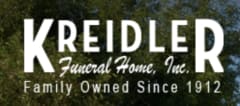 Locations
Kreidler Funeral Home Inc

314 N 10th St

Mc Allen, TX 78501-4508
About Us
Kreidler Funeral Home, Inc. was founded in 1912 by Harry and Harriet Kreidler who were originally from Pennsylvania. They moved to the Rio Grande Valley from the Chicago area, where they had been "undertakers", because Harry had become ill and needed a warmer, dryer climate. The only other undertaker in the valley at that time was Hinkley Mortuary in Brownsville. Documentation was found stating that Harriet was the first licensed female embalmer in the state of Illinois.
---
Don't see your business?
Contact us here to get your business listed above!