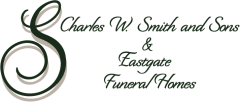 Charles W. Smith And Sons & Eastgate Funeral Homes
website
Locations
Charles W. Smith & Sons Funeral Home Princeton

660 E Highway 380

Princeton, TX 75407-

Charles W. Smith & Sons Funeral Home Mc Kinney

601 S Tennessee St

Mc Kinney, TX 75069-5713

Charles W. Smith & Sons Funeral Home Sachse

2925 5th St

Sachse, TX 75048-3123

Charles W. Smith & Sons Funeral Home Lavon

2343 Lake Rd

Lavon, TX 75166-1701

Eastgate Funeral Home

1910 Eastgate Dr

Garland, TX 75041-4829
About Us
Charles W. Smith and Sons and Eastgate Funeral Homes understand the difficulty of planning for a funeral. Our experienced team of licensed funeral directors will guide you through the process of Pre-Planning and Planning a Funeral or Cremation Service. We have 5 locations; Eastgate (Garland), Sachse, McKinney, Princeton and Lavon. We are sensitive to the needs of the communities in which we live and serve. We are family owned and operated funeral homes. We offer the highest quality of service to our families. We understand the importance of having a comforting and respectful environment. A safe place that allows family and friends to celebrate the life of their loved one with dignity and respect. We know that all families are unique and will have personal requests, customs and traditions to be part of the service. Our team will work with you to plan that meaningful service for your loved one.
---
Don't see your business?
Contact us here to get your business listed above!