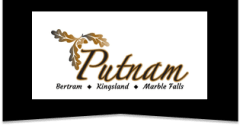 Putnam Funeral Home & Crematory, Llc
website
Locations
Putnam Funeral Home & Crematory, Llc

145 Texas Ave

Kingsland, TX 78639-1719
About Us
Putnam Funeral Home, founded by Chris Putnam, opened its doors in December of 2000. The funeral home quickly became a leader in the community and has a history of being active in countless organizations, events, and charities. Putnam has been recognized with numerous local awards and special recognitions for service to the community and fellow man. Putnam Crematory was added in 2006 making it the only on site crematorium in the Highland Lakes Area of Central Texas. It is a private crematory which means that only families Putnam serves can use it. Coupled with the fact that we are one of the few area funeral homes with on-site refrigeration, we offer our client families comfort and peace-of-mind knowing that whether you choose burial or cremation, your loved one never leaves our care. Putnam expanded into Marble Falls in February 2017 with the innovative concept of Cremation Advocates by Putnam - an elegant and joyful alternative to a traditional funeral home. Several months later, Putnam Funeral Home and Crematory became a member of the highly prestigious Selected Independent Funeral Homes trade association - an invitation only organization which holds its members to the highest standards in the industry and supports innovation and collaboration. Putnam opened Bertram Funeral Home in 2018 and is in the process of training two rescued puppies as grief therapy dogs.
---
Don't see your business?
Contact us here to get your business listed above!