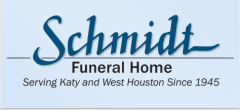 Locations
Schmidt Funeral Home

1508 East Ave

Katy, TX 77493-1932
About Us
In 1945, Milton and Rachel Schmidt founded Schmidt Funeral Home in Brookshire, Texas, with the goal of providing dedicated, compassionate service to the families in the communities they served. Their commitment to immediate service, professionalism and integrity quickly earned their new business a reputation for excellence and these same attributes continue to define the principles of Schmidt Funeral Home today.
---
Don't see your business?
Contact us here to get your business listed above!