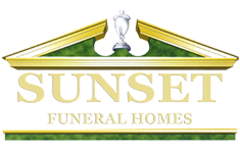 Locations
Sunset Funeral Home Northeast

4631 Hondo Pass Dr

El Paso, TX 79904-1419

Sunset Funeral Home West

480 N Resler Dr

El Paso, TX 79912-2730

Sunset Funeral Homes Americas

9521 N Loop Dr

El Paso, TX 79907-4831

Sunset Funeral Homes East

750 N Carolina Dr

El Paso, TX 79915-2612
About Us
We have years of experience caring for families, from all walks of life. Each family comes to us because they know we are leaders in our profession, dedicated to excellence in service, and have the highest integrity.Sunset Funeral Home opened on 750 North Carolina in 1989. Sunset is one of the fastest growing funeral firms in Texas. The second location was opened in 1996, at 4631 Hondo Pass in the Northeast, and the third location at 480 North Resler in the Westside, was completed in 2001. The newest state of the art facility is located at 9521 North Loop, off of Americas. Sunset believes a family-owned business provides the attention and detail that your family deserves at an affordable price and suggests you inquire about ownership before making your choice.
---
Don't see your business?
Contact us here to get your business listed above!