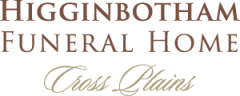 Higginbotham Funeral Home Cross Plains
website
Locations
Higginbotham Funeral Home Cross Plains

309 Ne Fourth St

Cross Plains, TX 76443-0009
About Us
Bob Harrell current Funeral Director/Manager has been serving families in the surrounding communities since 1982. Higginbotham Funeral Homes of Texas began in 1881 in Dublin, and now serves the communities of Cross Plains, Gorman, Comanche, Stephenville, Robinson, Waco, Cleburne, Burleson, and Joshua. The Cross Plains location at first operated as the Undertaking Department inside Higginbotham Bro. & Co. General Merchants which opened June 1, 1914. The Higginbotham hardware firms and funeral homes became separate corporations in 2000 with Higginbotham descendants still the majority stockholders. Ryan Ramsower, who manages one of the family's Waco firms, represents the fifth generation of Higginbothams in the funeral business. Since our founding, the guiding principle of Higginbotham Funeral Home - Cross Plains has been the commitment to treating each family who comes to us as our own. With sincerity, pride, and dedication, we are committed to this time-honored tradition.
---
Don't see your business?
Contact us here to get your business listed above!