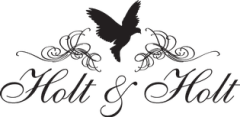 Locations
Holt & Holt Funeral Home

319 E San Antonio Ave

Boerne, TX 78006-2051
About Us
The newly-renamed Holt & Holt Funeral Home was purchased by William and Mary Holt in 2017. The established location remains but considerable time and attention have been spent to improve the facilities. The Holt Family's focus is on unparalleled caring and compassionate customer service, while catering to families in the Boerne area. Husband and wife, William and Mary, strive to help families achieve peace in the midst of losing a loved one. Their core values focus on consideration, dignity, respect and exemplary personalized service. With their son Jason now on staff, the family is further devoted to all those seeking rest for their loved ones. Aiming to be of genuine and empathetic assistance to the bereaved and to those who elect to pre-plan, the Holts are truly your neighbors. They are personally available day and night, choosing not to employ an answering service.
---
Don't see your business?
Contact us here to get your business listed above!