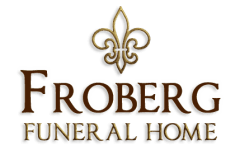 Locations
Froberg Funeral Home

115 N Hill Street

Alvin, TX 77511
About Us
Froberg Funeral Homes have been serving the Alvin community since 1900. We are a trusted funeral provider for funerals, cremations, & memorial needs. Whether your need is immediate or you are making advance funeral arrangements, you can count on us for the utmost care, attention to detail, professionalism, quality and service excellence. The most important component of our organization is our personnel. With our tradition of caring we are committed to fulfilling the needs of every family we work with during the loss of a loved one. At Froberg we help people during the most difficult time of their life. With just one call we take care of everything. Our Goal is to provide our families with exceptional care. We take pride and confidence in explaining to our families that when you entrust your loved one to us they never leave our care, custody or control. That is why since 1900 families like yours have been trusting Froberg.
---
Don't see your business?
Contact us here to get your business listed above!