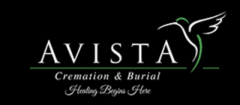 Locations
Avista Cremation & Burial

2500 Camino Entrada Ste A

Santa Fe, NM 87507-4904
About Us
The caring and experienced professionals at Avista Cremation & Burial are here to support you through this difficult time. We are dedicated to the profession we serve. We are a group of the finest funeral and cemetery people you can find. You will find us in the local community volunteering and working tirelessly for the aid of others. We support both in time and money the local charities and organizations that make up our community.
---
Don't see your business?
Contact us here to get your business listed above!