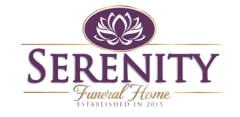 Locations
Serenity Funeral Home

3435 W Cheyenne Ave Ste 105

North Las Vegas, NV 89032-8207
About Us
Serenity Funeral Home was established on June 11, 2015, through the dreams and prayers of managing partners Andre Crockett and Andre Bailey. Together, they bring over 50 years of experience serving families and communities and are elated at the opportunity to make the city of North Las Vegas their first home. At Serenity Funeral Home, we are proud to be the first funeral home in North Las Vegas. We specialize in providing you with traditional, yet customized funeral arrangements designed to suit your unique needs. Our goal is to be a visible pillar as a servant throughout Las Vegas and our surrounding communities. We strive to encourage ways to partner with our community staples, such as local schools, churches, police departments, fire departments, hospitals and other community grass roots organizations. With these partners we work towards stopping violence, offering funeral service career options and offering grief counseling services.
---
Don't see your business?
Contact us here to get your business listed above!