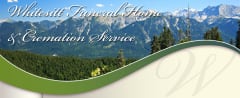 Locations
Whitesitt Funeral Home

314 Church Street

Stevensville, MT 59870-0012
About Us
Our funeral home was established in 1902 in Stevensville, Montana, however "The Grandfather" as family members knew him, began serving the Bitterroot Valley as a Mortician in 1894. He built caskets, did embalming, and carried out the wishes of the families he served. He obtained his embalming license by demonstrating to the State Board that he could embalm! In 1902 he purchased a used horse drawn hearse from an individual in Deer Lodge, MT. The hearse featured lead glass side windows and doors and sterling silver lanterns. The hearse is still in excellent condition today. Our funeral home was the 1st in Ravalli County. In 1918 a new facility was built, it was noted by news articles to be the "finest in the State". It was stocked with 8 – 10 adult caskets and several baby caskets. In 1937 a new chapel was built on the same location. A fire destroyed the building and a new funeral home was constructed in 1963, a new addition was added and the chapel "up-dated" in 1993. The Whitesitt Funeral Home and Cremation Service, has been owned by a grandfather, a father and from 1972 until December 31, 2010, owned by a son, H. Dean Whitesitt. After Dean retired, on December 31, 2010, Bill and Helen Kropp took over the day to day operation maintaining the family owned business.
---
Don't see your business?
Contact us here to get your business listed above!