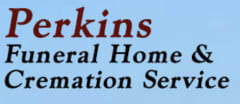 Locations
Perkins Funeral Home

211 Central Avenue

Harlowton, MT 59036-0313
About Us
Perkins Funeral Home was started in 1910 by the Perkins Family. It operated out of there home and hardward business until 1930 when they built the present building. The family continued to operated the business until the 1960's when longtime Funeral Director Myron Wetzel and Mortician Kenneth Twitchell purchased the business. In the 1990's Larry Scholz purchased the funeral home and operated it until his death. In December of 2012 R. J. (Dick) Brown of Lewistown purchased the funeral home and contiues to operate it today. The Perkins Funeral Home has service "Southcentral Montana since 1910" and continues to serve the families in the are with compassion and respect. Perkins Funeral Home is a full service funeral home, providing traditional casketed funerals, funerals with cremation, memorial and celebration of life services in our chapel, your church or a place of your choice. We also offer monuments and keepsake jewelry please visit our website for more information.
---
Don't see your business?
Contact us here to get your business listed above!