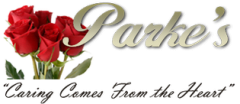 Parke's Magic Valley Funeral Home
website
Locations
Parke's Magic Valley Funeral Home

2551 Kimberly Rd

Twin Falls, ID 83301-7976
About Us
Parke's Magic Valley Funeral Home began in 1997, when Mike and Catherine Parke founded the funeral home. In 1998, the Parke's purchased the historic Twin Falls Cemetery. The Parke Family operated the Funeral Home and Cemetery of 10 years. In the summer of 2007 due to ill health, Mike and Catherine sold the funeral home to Jared and Michelle Clinger. The Clinger family operated the facility until Mike received a liver transplant and returned to fair health. On May 15, 2009 the Parke's repurchased the facility and are proud to once again serve the people of the Magic Valley. In July of 2011 the Parke family sold its interest in the Twin Falls Cemetery. The Parke family looks forward to serving the needs of the entire Magic Valley.
---
Don't see your business?
Contact us here to get your business listed above!