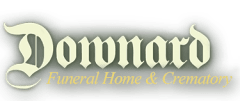 Locations
Downard Funeral Home

241 N Garfield Ave

Pocatello, ID 83204-3139
About Us
When you have experienced the loss of a loved one, you can trust us to guide you through the arrangements necessary to create a meaningful ceremony that celebrates the unique life being honored. Our staff is committed to providing your family with the highest quality care and service in your time of need, and we take pride in our responsibility to lighten your burden as you take the first steps toward healing and recovery.
---
Don't see your business?
Contact us here to get your business listed above!