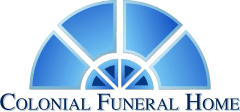 Locations
Colonial Funeral Home

2005 S 4th Ave

Pocatello, ID 83201-6936
About Us
Colonial Funeral Home was started by Leon Manning and Jared Clinger in October of 1992. The community of Pocatello was soon able to see the compassion, understanding, and level of service offered at Colonial Funeral Home was unparalleled. We believe personal service and attention to the needs of the family are our most important responsibilities. Today, our diverse staff of professionals continues to provide families the professional service they expect and the personal care they deserve.
---
Don't see your business?
Contact us here to get your business listed above!