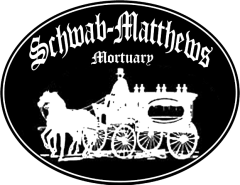 Locations
Schwab Matthews Mortuary

702 Clay St

Montpelier, ID 83254-1125
About Us
Matthews Mortuary was previously owned by Leonard Matthews, who was the son of Nile Matthews that started Matthews Mortuary. The Mortuary is now owned by Lee and Dain Schwab from the neighboring town of Afton. The Matthews and Schwabs have had a great working relationship in the history of the two valleys. In fact, when Schwab Mortuary started in Afton, there was no licensed embalmer in the valley. Nile and Leonard would travel to Afton to do all the embalmings for Schwab Mortuary. The people in Star Valley were grateful for the excellent job they did in helping Schwab's embalm. Since then Lee and Dain have become licensed funeral directors and embalmers. Lee actually did his apprenticeship training under the direction of Leonard. Dain has also helped with embalmings and directing funerals in the past when Matthews needed a hand. Lee and Dain are happy to be apart of the Bear Lake Valley. They are happy with how well the people have received them with the recent purchase of the Mortuary.
---
Don't see your business?
Contact us here to get your business listed above!