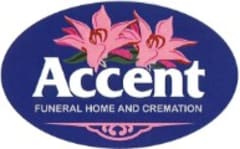 Locations
Accent Funeral Home

1303 N Main St

Meridian, ID 83642-1702
About Us
At Accent Funeral Home, we want you to know that we are committed to helping your family and loved ones with compassion and understanding during these most difficult times. Accent Funeral Home was established by E. Faye Buchanan in 1986 with a vision to offer services in a comfortable, homelike atmosphere. In 1999 Randy Arnzen purchased the funeral home, again to operate as a sole proprietor; bringing modern day methods to old-fashioned personal care. In 2002 Randy married Danette, who is also a licensed mortician, and together they operate Accent Funeral Home.
---
Don't see your business?
Contact us here to get your business listed above!