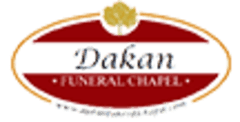 Locations
Dakan Funeral Chapel

504 S Kimball Ave

Caldwell, ID 83605-4172
About Us
In 1911, C.V. Peckham, who owned and operated Peckham Furniture in Caldwell, Idaho, and Parma, Idaho, started Peckham Funeral Chapel. He started the funeral home with a goal to serve families in our communities in Canyon County and provide dignified and caring service to those families regardless of race, religion or financial means. In 1935, he took on a young associate, T. Wilbur Dakan. In 1937, the funeral home was moved out of the basement of the Peckham Furniture Store, and the new facility was constructed at its present location at the corner of Kimball and Dearborn in Caldwell. Newspaper accounts of the time heralded the funeral home as one of the finest funeral home facilities in the northwest, and it was a structure in which the community took a great deal of pride. Today it's not uncommon to hear families tell of their grandfather or father's experience in helping to construct the facility. Many fine craftsmen of Caldwell and Canyon County were involved in the construction.
---
Don't see your business?
Contact us here to get your business listed above!