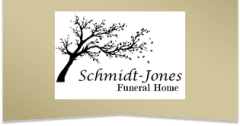 Locations
Schmidt Jones Funeral Home

427 Adams St

Wray, CO 80758-1712
About Us
The Schmidt-Jones Funeral Home located at 427 Adams St., was first started by William Henry Hitchcock in 1929. It was known as the Hitchcock Mortuary. Mr. Hitchcock operated the business until his death in 1938. Shortly after his death Mr. Hitchcock's wife hired Mr. Phil Lockwood from Ft. Morgan, CO. to operate the mortuary. In 1943, Mr. Lockwood purchased the mortuary from Mrs. Hitchcock. The name of the mortuary was changed to the Lockwood Mortuary. Mr. Lockwood continued to operate the mortuary until 1975 when he forced to retire because of bad health. Mr. Lockwood sold the mortuary to Ralph Spellman of Yuma, Co (a former Wray resident), in March of 1975. Mr. Spellman then hired his nephew James L. ( Jim ) Schmidt formerly of Cashmere,WA to operate the mortuary. The name of the mortuary was changed to the Lockwood- Spellman Mortuary. Then in 1978 the mortuaries in Wray and Yuma were joined together as one business. The name of the mortuary was changed to the name of Spellman – Schmidt Funeral Home. In 1993 Mr. Spellman retired ,selling the busines to his partners James L. Schmidt and Daniel L. Baucke. the business continued as before, until 2000 when the two funeral homes split and Mr. Schmidt became the owner of the Spellman-Schmidt Funeral Home. After forty years serving the Wray community James L. Schmidt retired and sold the funeral home to Javan Jones. After Javan purchased the funeral home the name was changed once more to its present name Schmidt-Jones Funeral Home.
---
Don't see your business?
Contact us here to get your business listed above!