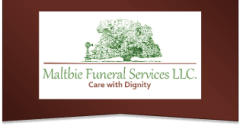 Locations
Maltbie Funeral Services

265 W 8th Ave

Springfield, CO 81073-1401
About Us
This funeral home had its beginning in 1926 under the name Rich Funeral Home by Isaac and Grace Rich. The funeral home was in various places in Springfield, CO including the home of Bob and Helen Rich. Bob Rich had the present day facility built in 1964 at 265 W 8th Ave. in Springfield, CO. The Rich family ran the funeral home until 1977, Neil and Judy Harman bought the business in 1984 and ran the business until Ervin and Coral Maltbie purchased the business in of August of 2007. In 2011 the name was changed to Maltbie Funeral Services. We continue to pursue the highest level of service and we greatly appreciate the trust the community has placed in us. We take pride in offering, comfortable facilities, having a staff that is kind, compassionate, and knowledgeable, as well as being dedicated to providing the very best service and care possible.
---
Don't see your business?
Contact us here to get your business listed above!