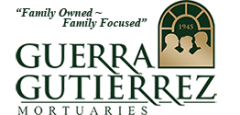 Guerrra & Gutierrez Mortuaries
website
Locations
Guerra & Gutierrez Mortuary Montebello

5800 E Beverly Blvd

Los Angeles, CA 90022-2824

Guerra & Gutierrez Mortuary East Los Angeles

5245 East Pomona Blvd

Los Angeles, CA 90022-1712

Guerra & Gutierrez Mortuary Whittier

6338 Greenleaf Ave

Whittier, CA 90601

Guerra & Gutierrez Mortuary Covina

124 S. Citrus Avenue

Covina, CA 91723

Guerra & Gutierrez San Fernando

1001 North Maclay

San Fernando, CA 91340

Guerra & Gutierrez Long Beach

5161 Arbor Road

Long Beach, CA 90808
About Us
For decades, our neighbors in Covina, Los Angeles, Montebello, and beyond have come to Guerra Gutierrez Mortuaries for funerals and cremations because we are and always have been owned and operated by family. When the Guerra and Gutierrez families opened their mortuary decades ago, they laid a foundation of offering excellent, compassionate service. The families remain committed today to carrying that legacy into the future.
---
Don't see your business?
Contact us here to get your business listed above!