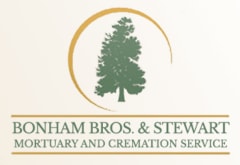 Bonham Bros & Stewart Mortuary And Cremation Service
website
Locations
Bonham Bros & Stewart Mortuary And Cremation Service

321 12th St

Ramona, CA 92065-2721
About Us
Bonham Bros. & Stewart Mortuary and Cremation Service has been serving Ramona, Julian, and the surrounding communities since 1968, in the long tradition of personal service. We offer affordable cremation and burial arrangements, pre-planning, cemetery markers, and we proudly serve our veterans. The death of a loved one can be a very overwhelming experience with all the details that need attention in planning final arrangements. The focus of our staff is in taking care of you.
---
Don't see your business?
Contact us here to get your business listed above!