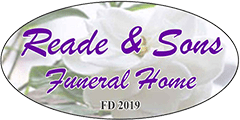 Locations
Reade & Sons Funeral Home - Fresno

1103 E St Ste 102

Fresno, CA 93706-3308

Reade & Sons Funeral Home - Kerman

15395 W. Kearney Blvd.

Kerman, CA 93630
About Us
In 2009, Enrique and Irene Reade fulfilled a dream when Reade & Sons Funeral Home was born. Enrique and Irene served the Hispanic community while working for others and by founding Reade & Sons they cemented their legacy by opening a business that the family would own and manage. With Enrique's passing in early 2020, the business continues to be managed by Irene Reade and their two sons, Richard and Ryan. Reade & Sons Funeral Home continues the legacy of Enrique Reade by providing services to families during the most difficult moments of their lives. With two locations to serve you Reade and Sons offers funeral plans that fit your financial needs while honoring the life of your loved one. The family is committed to serving the community by providing quality services, affordable prices and modern facilities. We are committed to providing the best experience possible to all families. Our dedicated bilingual staff is caring and sincere. The company provides full services including traditional funerals and cremations, military services, overnight visitations, rosaries and ship outs to Mexico. We also offer advanced planning which allows you to pre-arrange your funeral or cremation today to ensure that your wishes are known.
---
Don't see your business?
Contact us here to get your business listed above!